Actualmente, con el auge de las redes sociales, compartimos cada vez más cosas de nuestros viajes: los lugares donde hemos estado, las personas que hemos conocido, las experiencias que hemos vivido y por supuesto los hoteles que hemos disfrutado. Por ello, casi sin darnos cuenta, está surgiendo entre nosotros la necesidad de tener algo verdaderamente especial que contar, algo que sea único y que nos diferencie de lo que otros comparten. El buscador de hoteles y apartamentos hotelscan.com ha hecho una selección de hoteles donde podrás vivir estancias únicas que dejen a tus amigos y familiares con la boca abierta.
1. El más alto.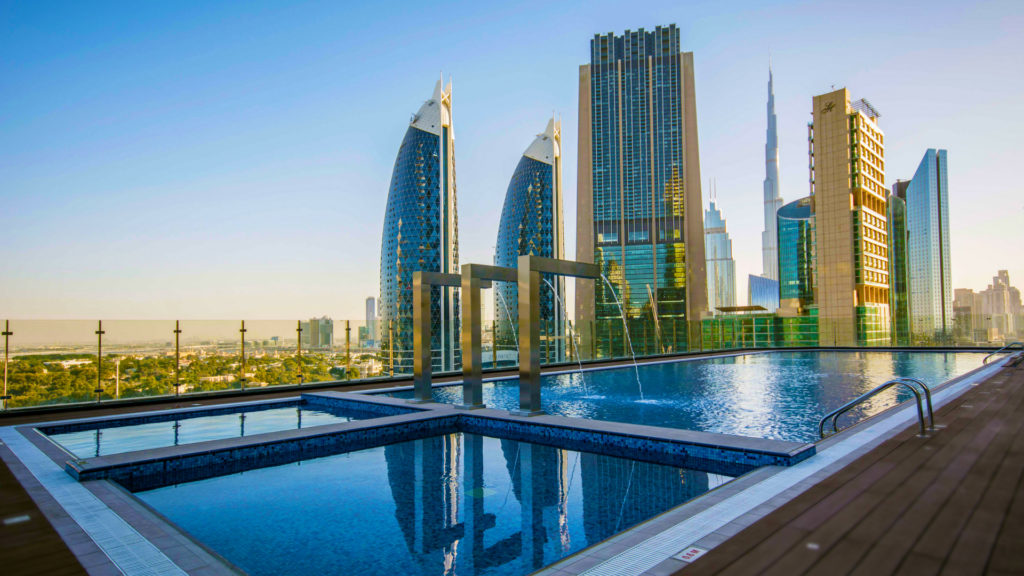 El Gevora Hotel en Dubai, ocupa el puesto número uno en cuanto a hoteles más altos del mundo, tiene 75 pisos y mide 356 metros, sólo uno más que el JW Marriott Marquis Hotel que también se encuentra en Dubai. El Gevora Hotel, tiene 528 habitaciones, la mayoría de lujo, pero todas acordes al tamaño del hotel, la más pequeña tiene 46 m2 y la más grande 85 m2, además, cada planta cuenta con un mayordomo dispuesto a satisfacer todas las necesidades de los huéspedes. Sus cinco restaurantes ofrecen una gran variedad de ambientes y cocinas. Este impresionante hotel de color dorado también tiene spa, dos gimnasios, uno para hombres y otro para mujeres y piscina cubierta. A pesar de ser el hotel más alto del mundo el lujo comienza desde que uno entra por una de sus puertas giratorias del lobby, ¡revestidas de oro macizo! y se monta en uno de los ocho ascensores que posee el hotel y que tardan tan solo 38 segundos en subir los 75 pisos hasta llegar a la espectacular piscina de la azotea donde poder disfrutar de las mejores vistas de la ciudad tomando un cóctel o dándose un baño.
2. El más grande.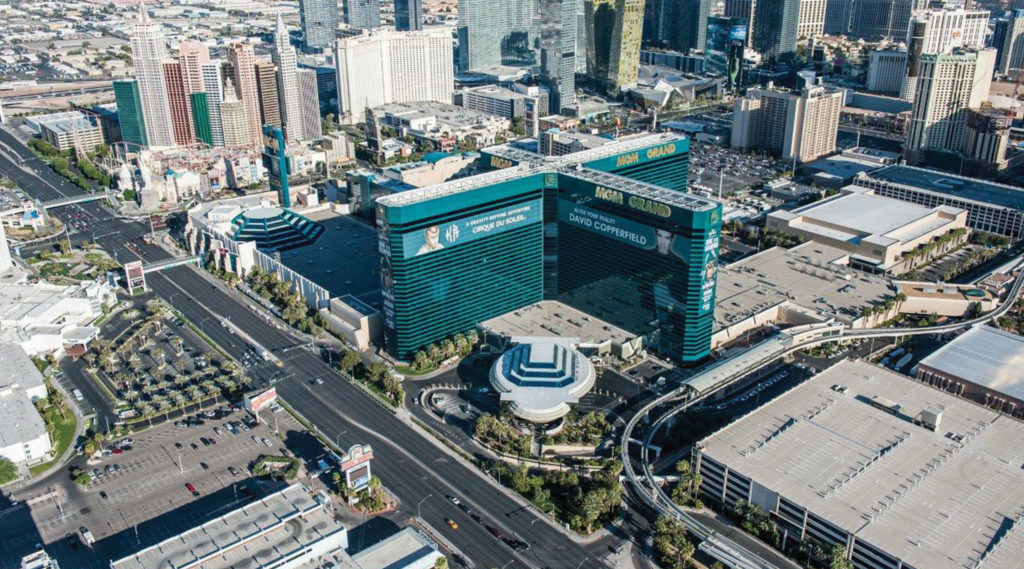 El hotel más grande del mundo actualmente es el hotel MGM Grand Hotel en Las Vegas, con 6.198 habitaciones, su edificio principal tiene 5.044 (4.293 habitaciones y 751 suites) a lo que hay que añadir 576 suites localizadas en las tres torres The Signature, los 51 lofts del Skylofts y las 29 villas de The Mansion at MGM Grand. Además el hotel alberga el famoso pabellón de conciertos y deportes MGM Grand Garden Arena, cuenta con restaurantes mundialmente galardonados como el Joel Robuchon, especializado en alta cocina francesa, el asador Tom Colicchio's Craftsteak y el Morimoto Las Vegas, que prepara cocina japonesa creativa. Y por si fuera poco, el entretenimiento viene de la mano de el Cirque du Soleil con su espectáculo KÀ, una producción que incluye acróbatas, artes marciales, marionetas y pirotecnia.
Aunque no todo son buenas noticias para el MGM Grand, el título de hotel más grande del mundo le será arrebatado por el hotel Abraj Kudai que actualmente se está construyendo en La Meca, este hotel tendrá 10.000 habitaciones situadas en doce torres con 70 restaurantes y cuatro helipuertos. Además, contará con la cúpula más grande del mundo.
3. El más pequeño.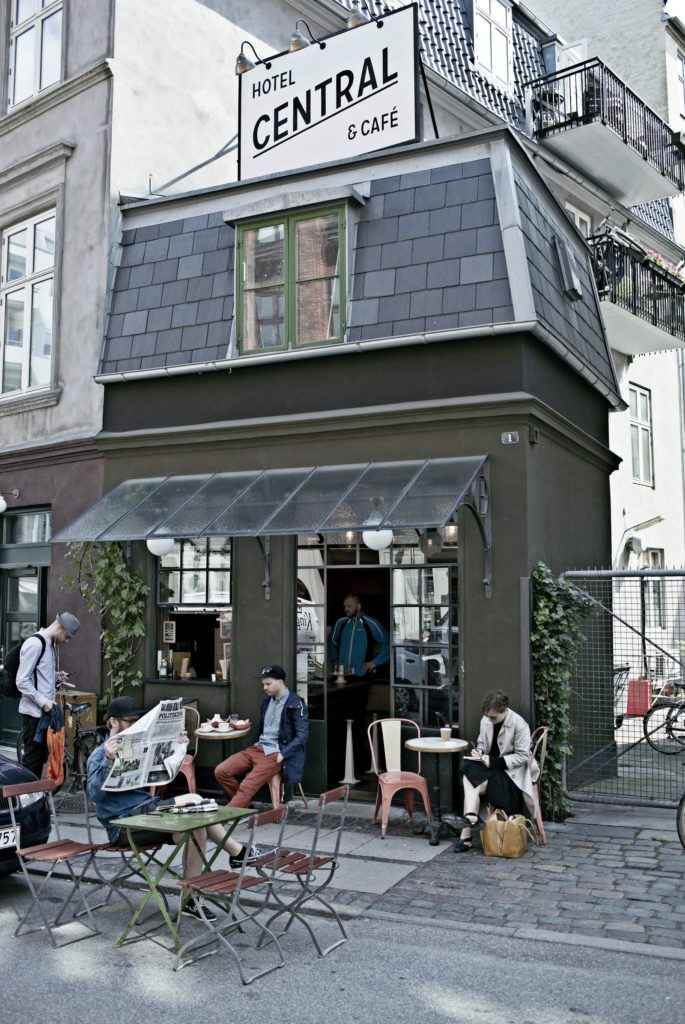 Es complicado decir cuál es el hotel más pequeño del mundo, por un lado podría ser el Hotel Central & Café de Copenhague. Posee sólo una habitación de 12 metros cuadrados con todo tipo de detalles y comodidades, situada encima de la cafetería Granola Café en el barrio de Vesterbro. Obviamente con la reserva está incluido el desayuno, que se puede degustar bajando las escaleras o en la habitación. Aunque éste no ostenta el Record Guinness, ya que la organización considera que la cafetería forma parte del hotel, para ellos, el hotel más pequeño del mundo está situado en Alemania, concretamente en Ambreng, en la región de Baviera. Se trata del hotel Eh'haeusl. Sólo tiene 56 metros cuadrados y una sola habitación cuyo precio es de 240 euros la noche (con desayuno incluido). Tiene televisor de pantalla plana, hilo musical, un sofá, una chimenea, una bañera de hidromasaje… y por supuesto cama.
Aunque Hotelscan.com considera el "hotel" más pequeño del mundo a un popular Volkswagen Escarabajo blanco que se encuentra en Jordania, concretamente en Al Jaya, al sur de la capital, Amán. Este singular alojamiento está habilitado para dos personas. Su propietario también ofrece desayunos y comidas típicas jordanas en una cueva cercana que acondicionó para tenerla también como recepción. La noche cuesta unos 48 euros.
4. El más antiguo.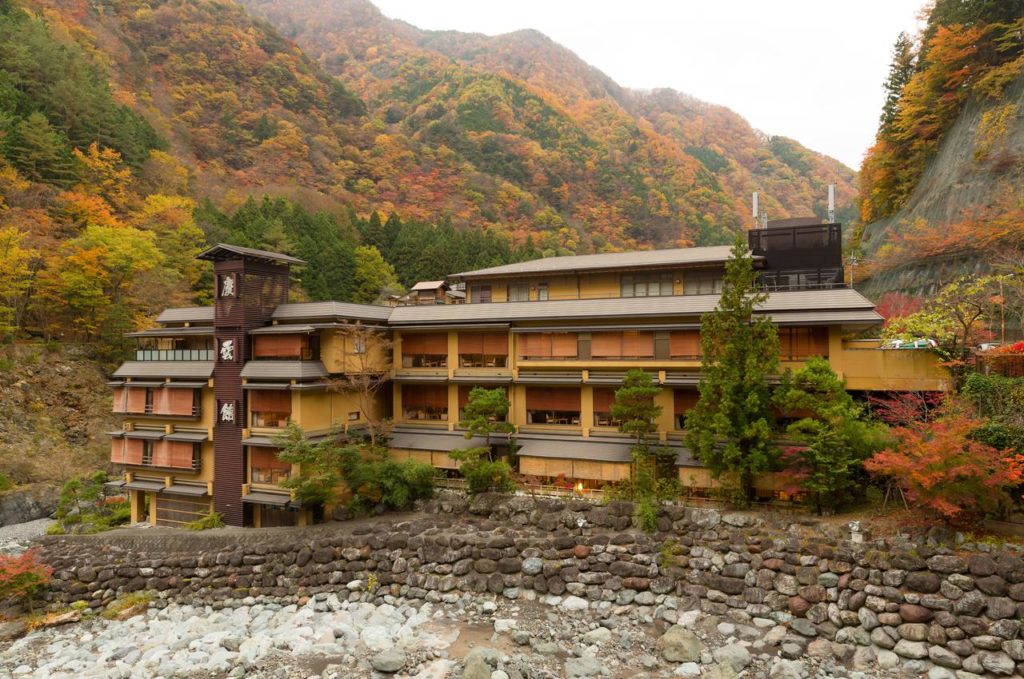 El hotel más antiguo, que aún se encuentra en funcionamiento, es el El Nishiyama Onsen Keiunkan, situado cerca del Monte Fuji, en Japón, ha sido regentado nada más y nada menos que por 52 generaciones de una misma familia ya que fue abierto en el año 705 antes de Cristo. Cuenta con 37 habitaciones decoradas al estilo tradicional japonés, que cuestan entre 400 y 600 euros la noche. En 1997 fue renovado pero manteniendo su estética tradicional. Es especialmente popular por los beneficios de sus aguas termales que atrajeron en el pasado los famosos samuráis en épocas de guerra para curar sus heridas y sus problemas musculares. Sus 1.313 años de antigüedad seguro que han dado para muchas historias.
5. El más caro.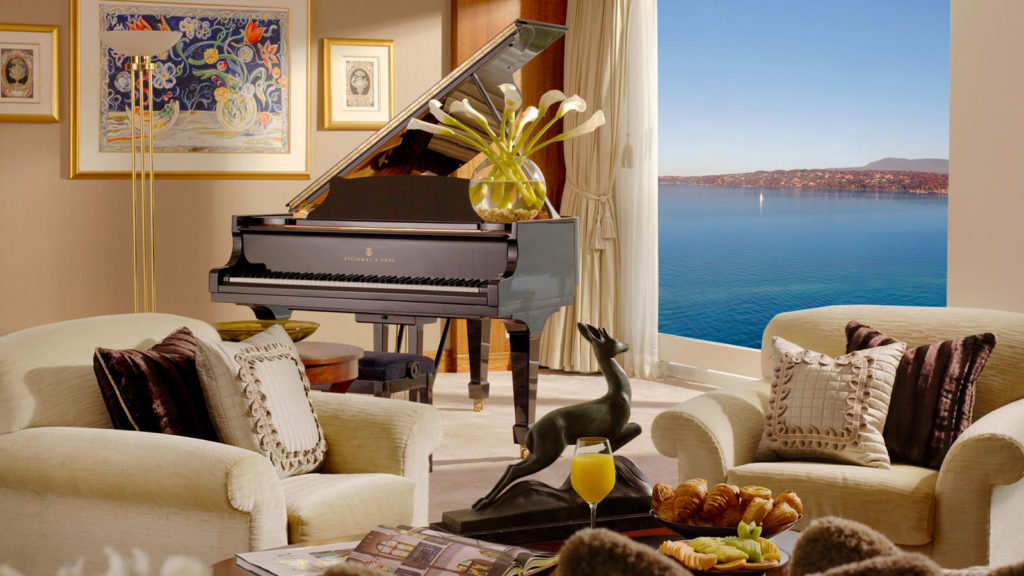 Al menos el que ofrece la habitación más cara: se trata de la Suite Imperial del Hotel President Wilson en Ginebra, Suiza, en la que podríamos pasar la noche por tan solo 83.000 dólares, unos 71.670 euros. Los afortunados huéspedes tienen todo lo que podrían necesitar ya que esta suite ocupa la totalidad de la octava planta del hotel y consta de 12 habitaciones, 12 baños de mármol llenos de productos Hermès, una terraza circundante con vistas al lago Leman y al Mont-Blanc, ascensor propio, una sala de estudio, un vestidor, un comedor con capacidad para 26 personas, un salón de 230 m2 con una mesa de billar 1930 Brunswick y un piano de cola Steinway, una biblioteca con una colección de libros antiguos, ventanas a prueba de balas y servicios de evacuación en helicóptero. Además, la estancia incluye un chef, un mayordomo, un chofer y un asistente personal.
6. El más frío.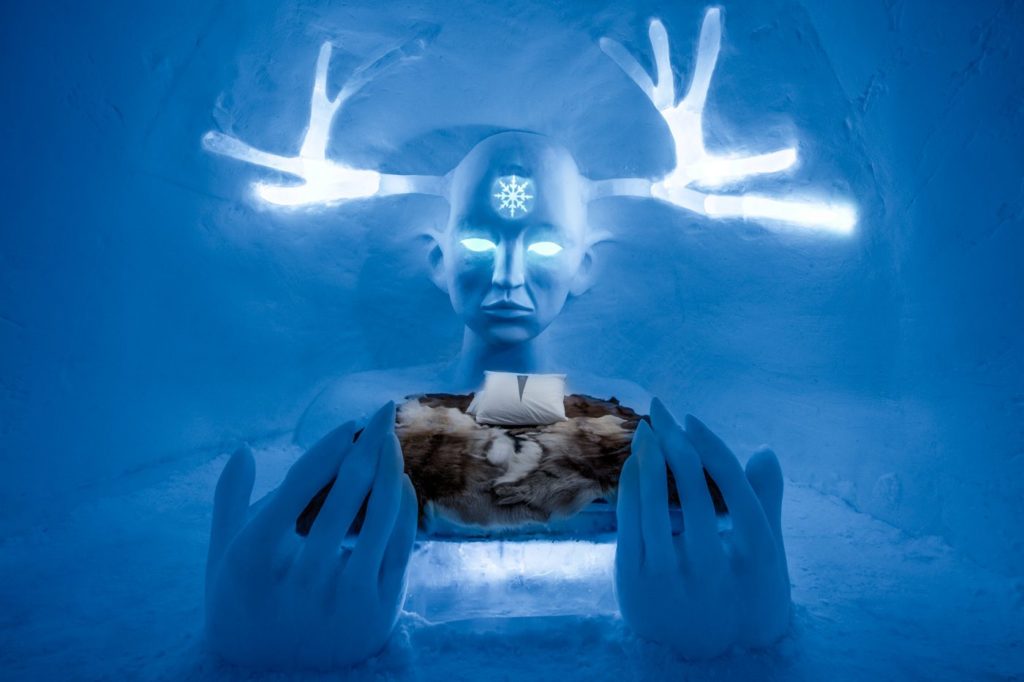 El histórico Ice Hotel en Jukkasjärvi, Suecia, construido con bloques de hielo que se derriten cada primavera y son reconstruidos cada invierno se puede considerar el hotel más frío del mundo, aunque también ofrece habitaciones con calefacción. Las habitaciones frías tienen una temperatura de entre -5 y -8 ºC y cada una de ellas tiene una temática individual única, con muebles de hielo esculpidos a mano por artistas internacionales. Las habitaciones incluyen camas exclusivas Carpe Diem con sacos de dormir térmicos y mantas de piel de reno. El precio sin embargo no dejará helado a los clientes, se puede reservar una noche desde 130 euros.
7. El más subterráneo.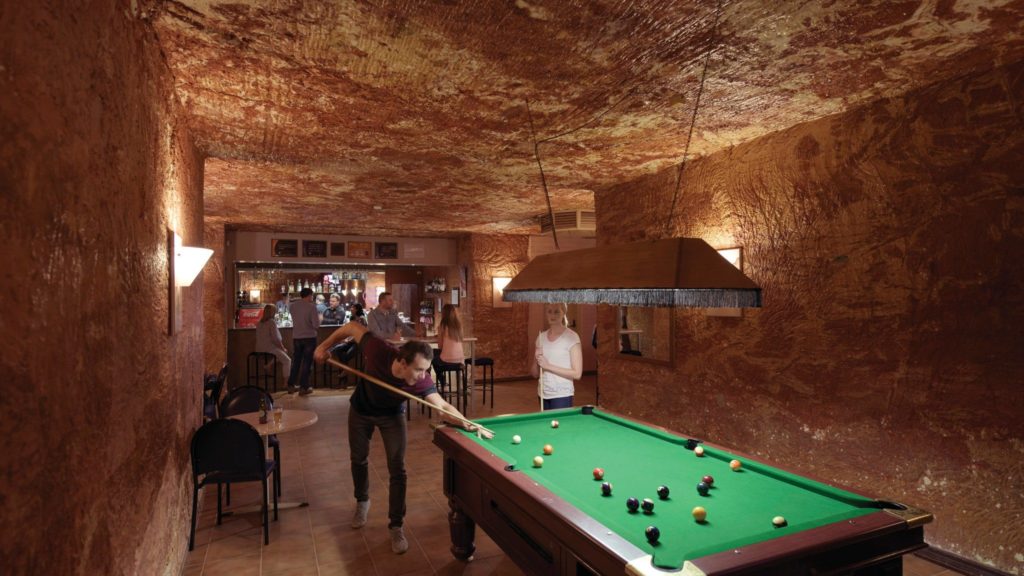 El Desert Cave Hotel es el único hotel que se encuentra completamente bajo tierra, no sólo el hotel, sino una ciudad entera llamada Coober Pedy, en medio del desierto australiano. En el Desert Cave Hotel las 19 habitaciones son amplias y con techos altos, eso sí, ¡excavados en la roca!, cuenta también con tiendas, cafetería, un centro de interpretación del ópalo, un bar y sala de juegos con billar. El precio de disfrutar la experiencia de vivir bajo tierra es de solo desde 120 euros la noche.
8. El más inclinado.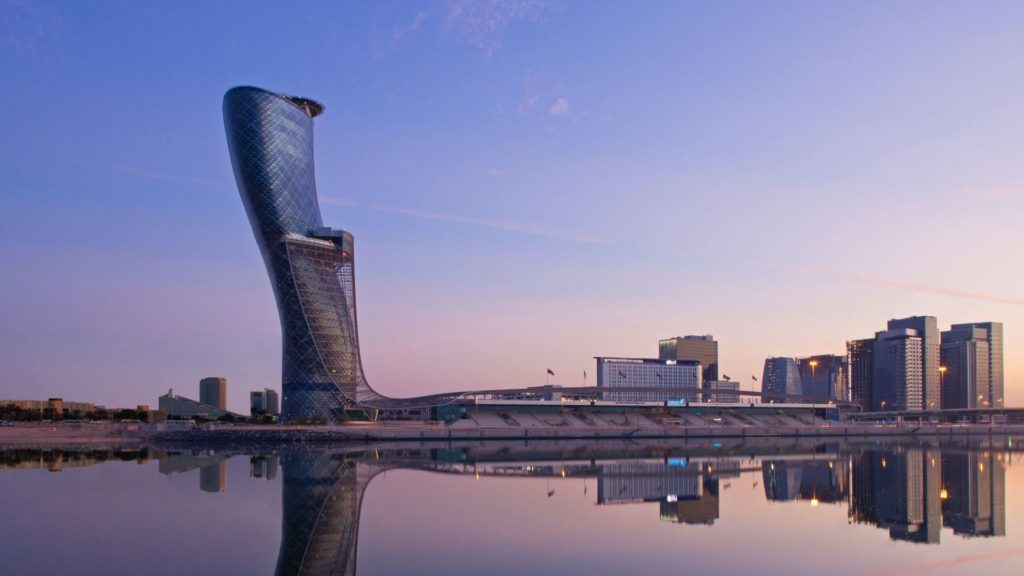 El Hotel Hyatt Capital Gate de Abu Dabi es el hotel más inclinado del mundo, está situado entre las plantas 18 y 33 de la torre Capital Gate, de 165 metros de altura, que tiene una inclinación de 18 grados, ¡cuatro veces superior a la Torre de Pisa!. El hotel, de 5 estrellas, cuenta con 189 habitaciones y suites, piscina al aire libre, gimnasio, piscinas de hidromasaje suspendidas y su famoso spa conocido como "spa cielo" por sus increíbles vistas a la ciudad.
9. El más submarino.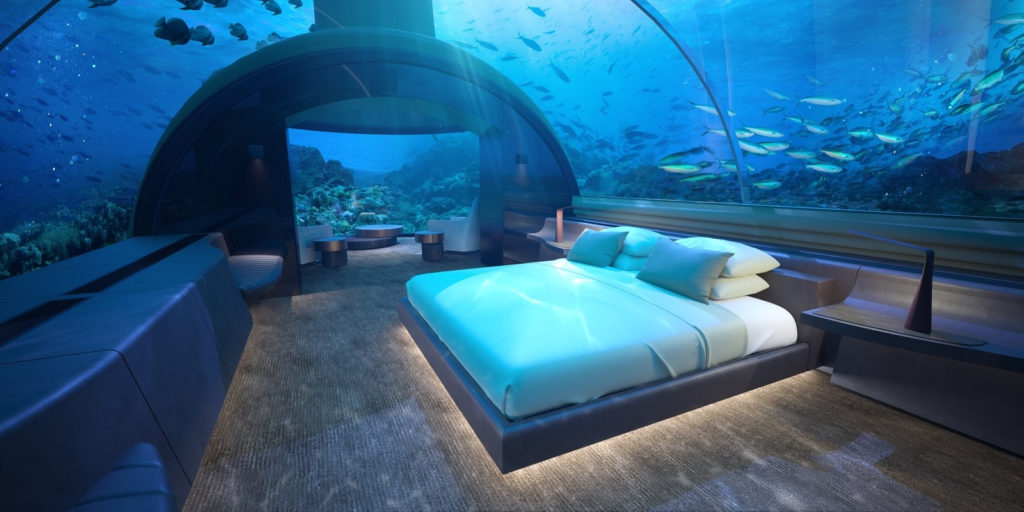 El Hotel Conrad Maldives Rangali Island en las Maldivas está creando una suite que permite a los huéspedes dormir bajo el agua. Se trata de la primera habitación de este tipo que se establecerá en aguas oceánicas reales en lugar de acuarios artificiales, como tienen otros hoteles. Su nombre es Muraka (que significa «coral» en Dhivehi, el idioma local en las Maldivas) y tiene dos pisos, el superior flota sobre el agua mientras que la planta baja está sumergida a más de cinco metros por debajo de la superficie del océano. Los que estén deseando reservar ya deben saber una cosa, todavía no está inaugurada, lo hará a finales de este año y pasar una noche en ella costará 50.000 dólares, unos 43.000 euros de nada.
10. Y el más estrecho… ¡es español!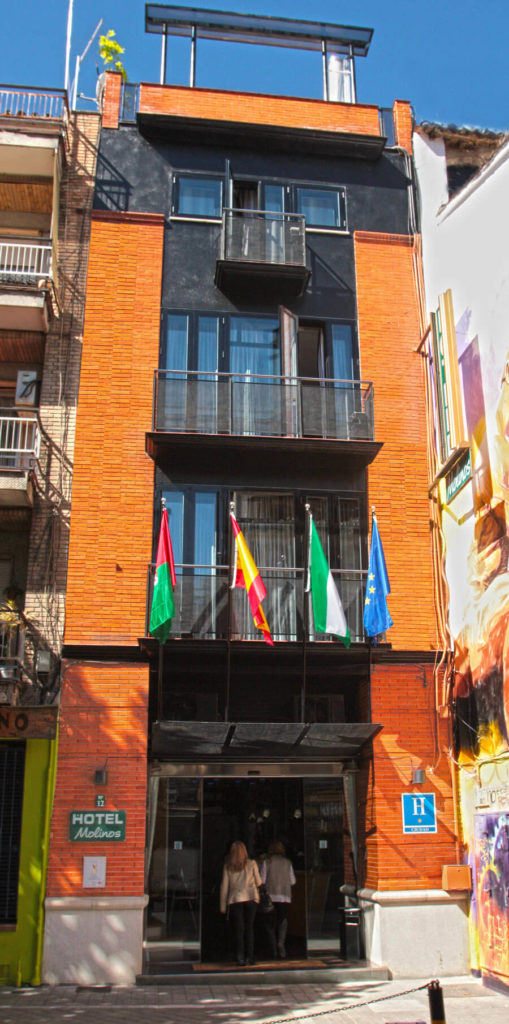 Pues sí, para acabar esta selección, hotelscan.com ha podido comprobar que España también tiene un hotel en el ranking de los más singulares y con su propio Record Guinness, se trata del hotel más estrecho del mundo, se encuentra en el barrio granadino del Realejo y su nombre lo saca de la calle donde se encuentra: Molinos. Cuenta con nueve habitaciones repartidas en tres plantas sin ascensor, debido a que en sus 5,2 metros de anchura máxima no cabe, es tan estrecho que el mostrador de la recepción es utilizado como cafetería.